Plastiques biosourcés et/ou biodégradables en fin de vie - Conditions et conséquences sur leur valorisation dans les filières actuelles de valorisation des déchets
The industrial demand for biosourced plastics is increasing because of the need to develop a society that is less dependent on fossil resources. New products are developed to meet the demand for production of consumer goods and equipment as well as to meet regulatory and societal demands. Diversification of bioplastics requires consideration of their integration into current (and future) processes for the treatment and recovery of solid waste: mechanical recycling, chemical recycling, biological recovery of material and / or energy (composting, anaerobic digestion). Based on a detailed review of the scientific and technical literature, as well as feedback from industrial experiments, this study aims at identifying the consequences of the presence of bioplastics in the solid waste treatment sectors and to identify research and development issues favoring their effective integration into current and future value chains of circular resources.
La demande industrielle de plastiques biosourcés et/ou biodégradables augmente au fil de la prise de conscience de la nécessité de développer une société moins dépendante des ressources fossiles. De nouveaux produits sont développés pour répondre à la demande de production de biens de consommation et d'équipement, tout en satisfaisant les exigences réglementaires et sociétales. La diversification des matières plastiques nécessite de prendre en considération leur intégration dans les filières actuelles de traitement et de valorisation des déchets solides : filières de recyclage mécanique, filières biologiques de valorisation matière et/ou énergie (compostage, méthanisation) et filières pouvant être amenées à se développer en se basant sur du recyclage chimique et biochimique. Basée sur une revue détaillée de la littérature scientifique et technique, de retours d'expériences industrielles, cette étude a pour objectif d'identifier les conséquences de la présence de plastiques biosourcés dans les filières de traitement des déchets solides citées ci-dessus. Il conviendra de cerner les enjeux de recherche et développement technologique favorisant leur intégration effective dans les filières actuelles et futures de valorisation circulaire des ressources.
Fichier principal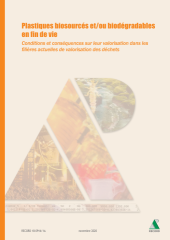 Rapport_record18-0916_1A(1).pdf (7.03 Mo)
Télécharger le fichier
Origin : Publication funded by an institution